So ever since making my first Regency gown to attend a Regency dance weekend a few years ago, I've been trying to figure out how to convince my husband to come with me to one of these events. Turns out, I just had to ask him!
Of course, if he's going to attend a Regency ball, he has to dress the part! While I'm not up to the task of making a tailcoat from scratch (I bought a modern tailcoat instead), I decided to make him a waistcoat– he's so tall that standard length vests never seem to fit right, plus I wanted to have it go straight across like a real Regency waistcoat, rather than having pointed fronts.
So I bought a copy of McCall's 7003, which has a nice single-breasted vest pattern with a collar (and was priced really low on eBay), plus a length of striped drapery fabric to work with.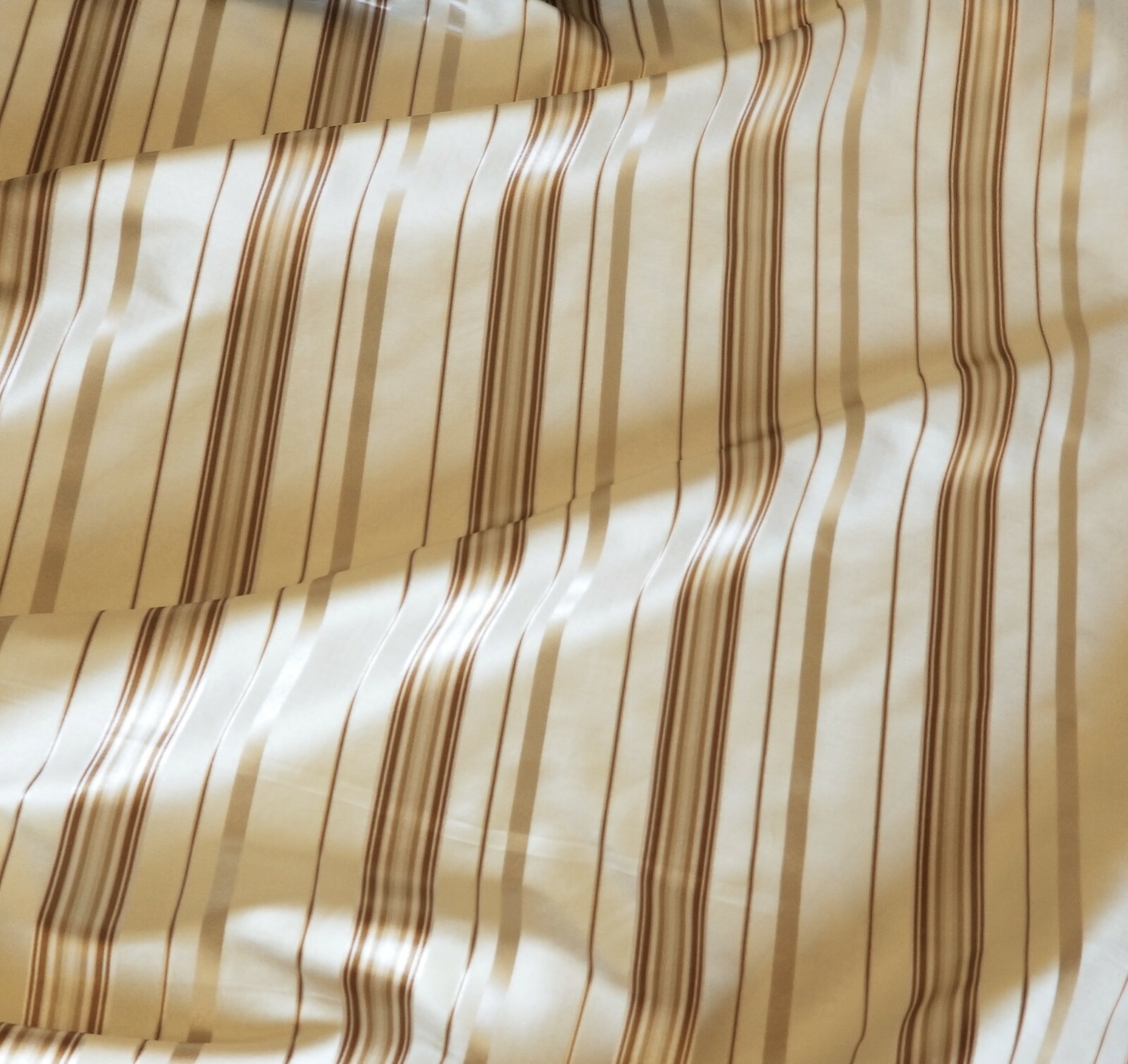 I cut out a mockup in size XL and had him try it on with the whole ensemble– pants, shirt, tailcoat. I determined that I didn't need to lengthen it all that much– rather, I needed to modify the bottom so that the hem would be straight, rather than pointed, with the straight edge at the level of the bottom of the point in the pattern. I probably should've used the pattern's instructions to lengthen the vest as directed, but instead I was lazy and just cut the whole thing longer from the end.
After that, the cutting process was pretty straightforward– the only part I had to be careful about was cutting the front of my vest so the stripes would be symmetrical. I didn't quite succeed on the lapels, but they're not going to show much anyway, so whatever.
As for the sewing, well, let me just say that there's a reason I don't do tailored pieces all that often. I don't know what it is, but they just don't seem to come naturally to me– I can follow the instructions faithfully but I never really know what I'm doing, even if the results turn out all right. This probably means I just need to throw myself into tailoring and crank out three or four or however many pieces until it feels comfortable, but I have too many other projects in the works right now to make room for more!
Anyway, once the main construction was done, I had my husband try it on with the other pieces of his outfit before I sewed up the side seams– sure enough, it actually ended up too long, so I had to adjust the length so it didn't hang out too far under his tailcoat. And then it turned out that I adjusted it too far, so it was too short after all! (sigh) Because he was wearing regular khaki pants with it (rather than more period-appropriate high-waisted pants), it really was a fine line between "too long for the jacket" and "too short to cover his waistband." He ended up having to pull his pants up higher to get the proportions right– still the wrong kind of pants, but close enough for a single event.
After finalizing the length and stitching the sides, I made a set of self-covered buttons and added the buttonholes. Have I mentioned how much I adore the automatic buttonhole function on my sewing machine? It almost made up for the trouble I had with making self-covered buttons out of that terrible fraying fabric.
I regret not taking more trouble to match the orientation of the stripes on my buttons, but there's no helping it now…