When writing this post, I initially started writing about how a problem facing many historical costumers is carrying all of our bits and bobs when many dresses come without pockets, and how finding appropriately period purses can be difficult. And I was going to talk about how that's what prompted me to want a chatelaine, which was basically a multi-tool for 19th century women… but then I had to admit to myself that my desire for a chatelaine really had nothing to do with needing to carry stuff with me, and everything to do with it just looking really cool.
So what is a chatelaine? Basically it's a hook or pin that women would attach to their belt/waistband. It would have several chains hanging from it, and dangling from the chains would be an assortment of useful items– pencils, watches, perfume vials, buttonhooks, needle cases, notebooks, coin purses… basically anything a woman might want to have handy.
Of course, these items weren't strictly utilitarian– many chatelaines were made of silver, gorgeously embellished, and just generally decorative. Here are some of my favorites, mostly from the 1880s-1890s:
So, with all of this beautiful inspiration, is it any wonder I wanted one for myself?
The problem, of course, is that antique chatelaines with any attachments at all tend to sell for no less than $200, and easily reaching $2,000 depending on condition and complexity. I wasn't about to spend that much, so I had to improvise.
The first and most important component, of course, was the chatelaine hook. Luckily, I was able to find this beautiful reproduction from DesireeBoissier on Etsy. At around $50 (price has apparently varied over time) it was a little more than I'd hoped to spend, but when I added up the cost of the vintage scarf clip I'd been considering as a substitute, plus chains, jump rings, and clasps (not to mention shipping costs), it was definitely the best option. I have zero complaints– it's really beautiful, feels sturdy, and shipped quickly! There are several other design options in her shop, plus attachments if you don't want to search out your own, so I highly recommend taking a look.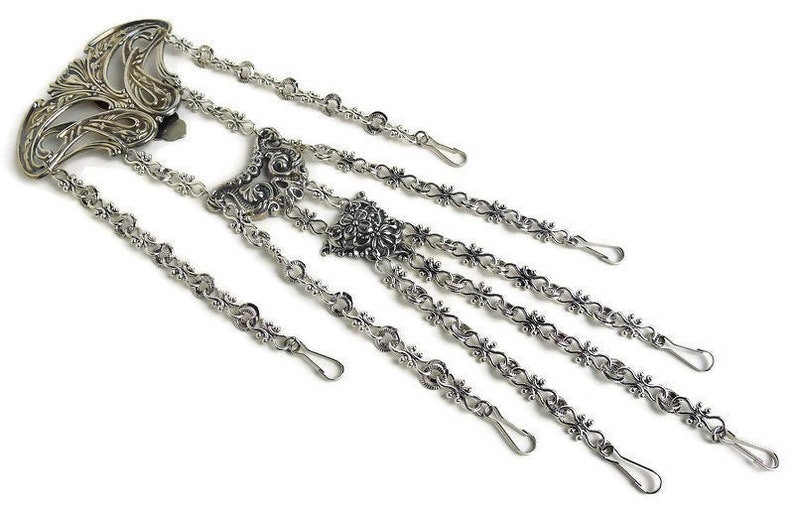 So I had my base– next I had to decide on attachments. Seven chains gave me a lot to work with, but seven attachments would also add up quickly in terms of price. I'd have to do some smart shopping.
A pocket watch was a given– not only was it easy to find but it was also cheap to purchase on eBay. I admit it's mostly for show– after all, I'll have my phone on me so it's not like I'll need a separate timekeeper– but it's so pretty!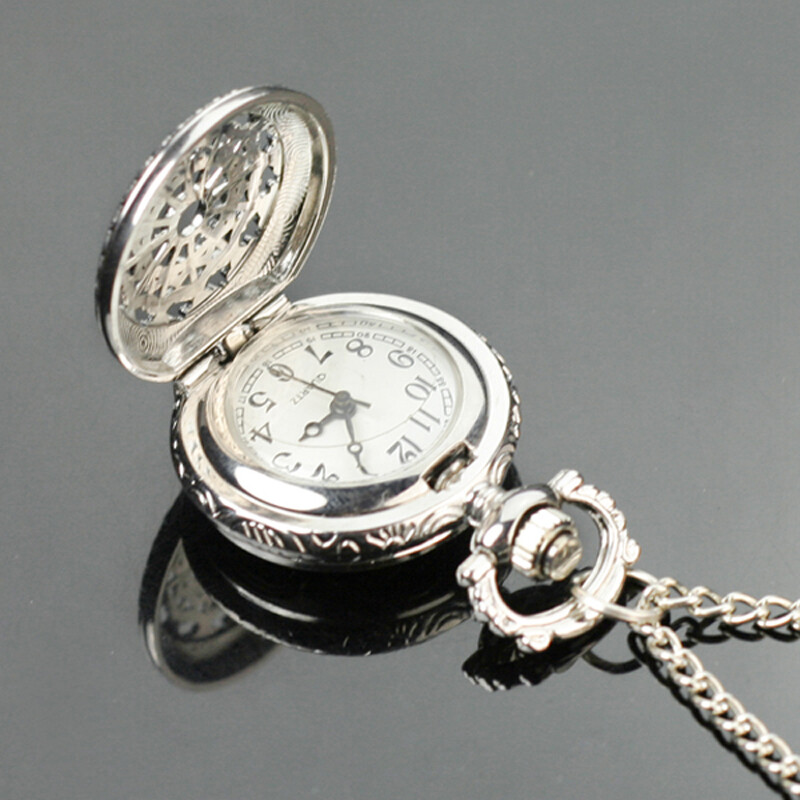 Scissors were a useful tool that I thought I'd want– while there were some fancy-looking scissors in sheaths available, they were all pretty expensive at over $12 each, and I worried a little that 1) they might be too heavy, or 2) the scissors might fall out of the sheath. I decided to get some modern folding scissors instead, as they were both cheap and convenient.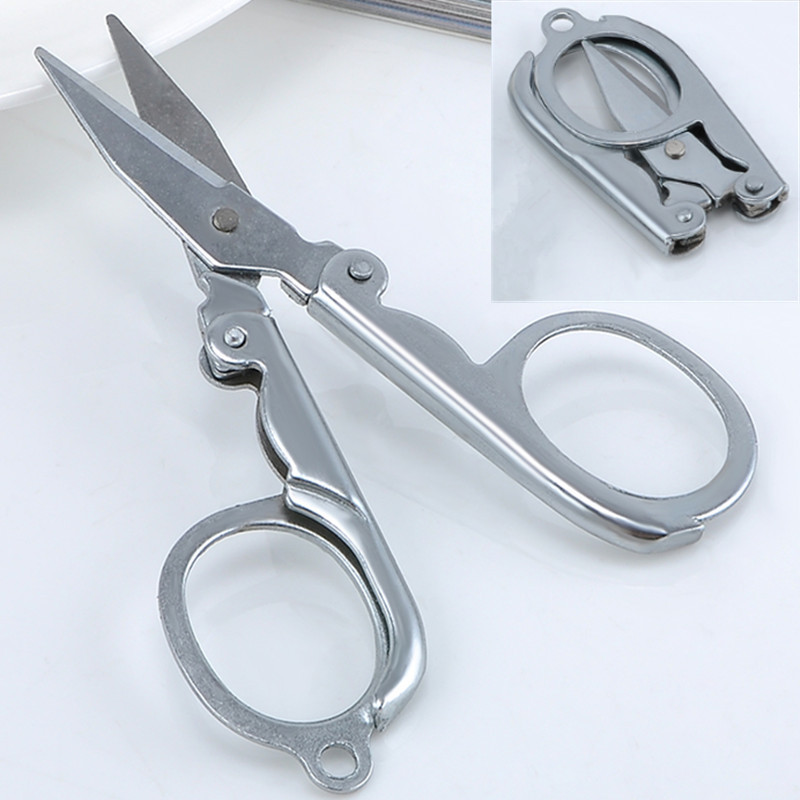 I also thought that I could use a measuring tape, since shopping for costume components often relies on measurements. I went for a basic stainless steel keychain measuring tape. Annoyingly, the tape is only 30″ long, but it's better than nothing.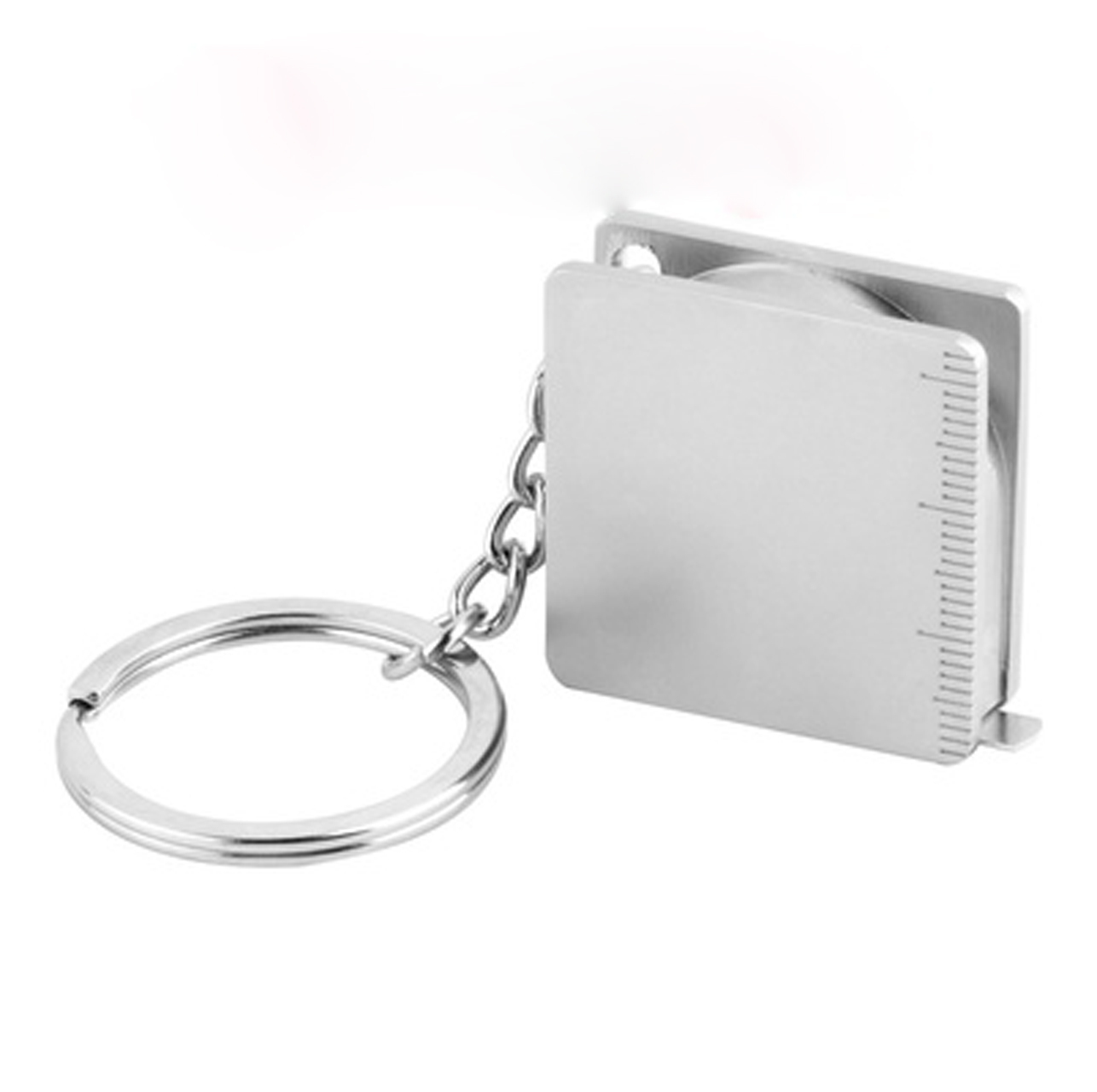 I picked up this 1 oz. flask for times when I might need some liquid refreshment. The flask is the largest and heaviest item I have, but since it's for liquor instead of for perfume, a smaller one wouldn't be much use, would it?
I also got this LED flashlight in case I need extra light. Not very historical, especially since the light is purple (didn't notice that in the listing when I bought it), but still useful!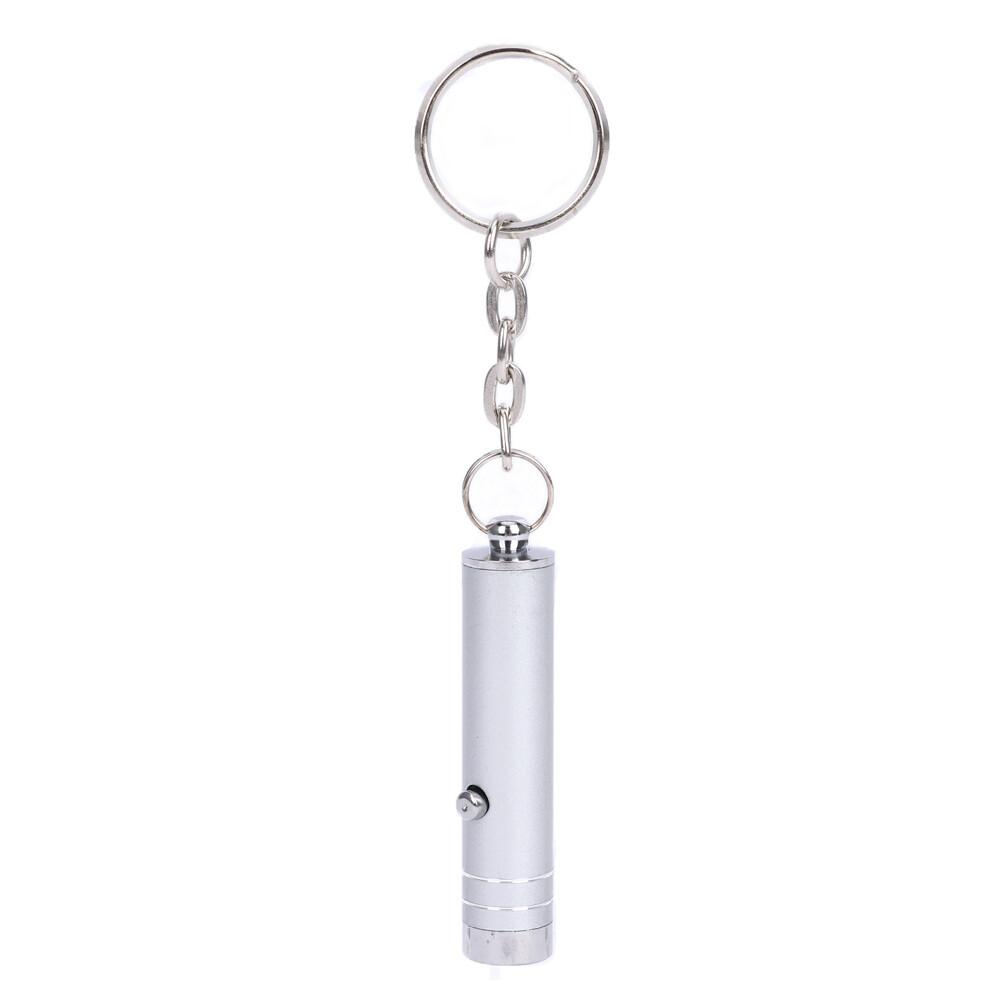 Next up was this screwtop pillbox, which I'll use to hold emergency safety pins– something I always like to have on hand. I suppose I could also use it for threaded needles, or pills, or other tiny objects, but for now it'll be safety pins.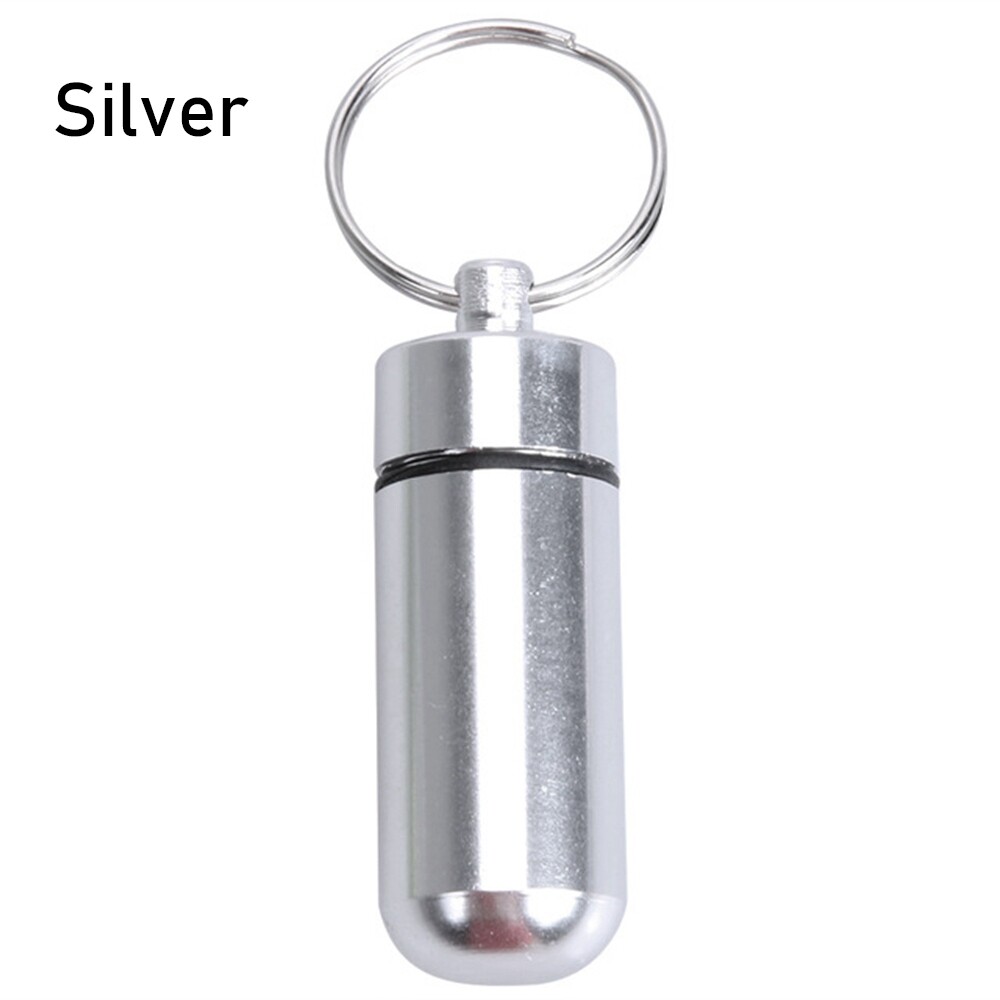 And finally, this telescopic pen. I don't actually need it to telescope out longer since I'm fine writing with a tiny pen, but it does anyway.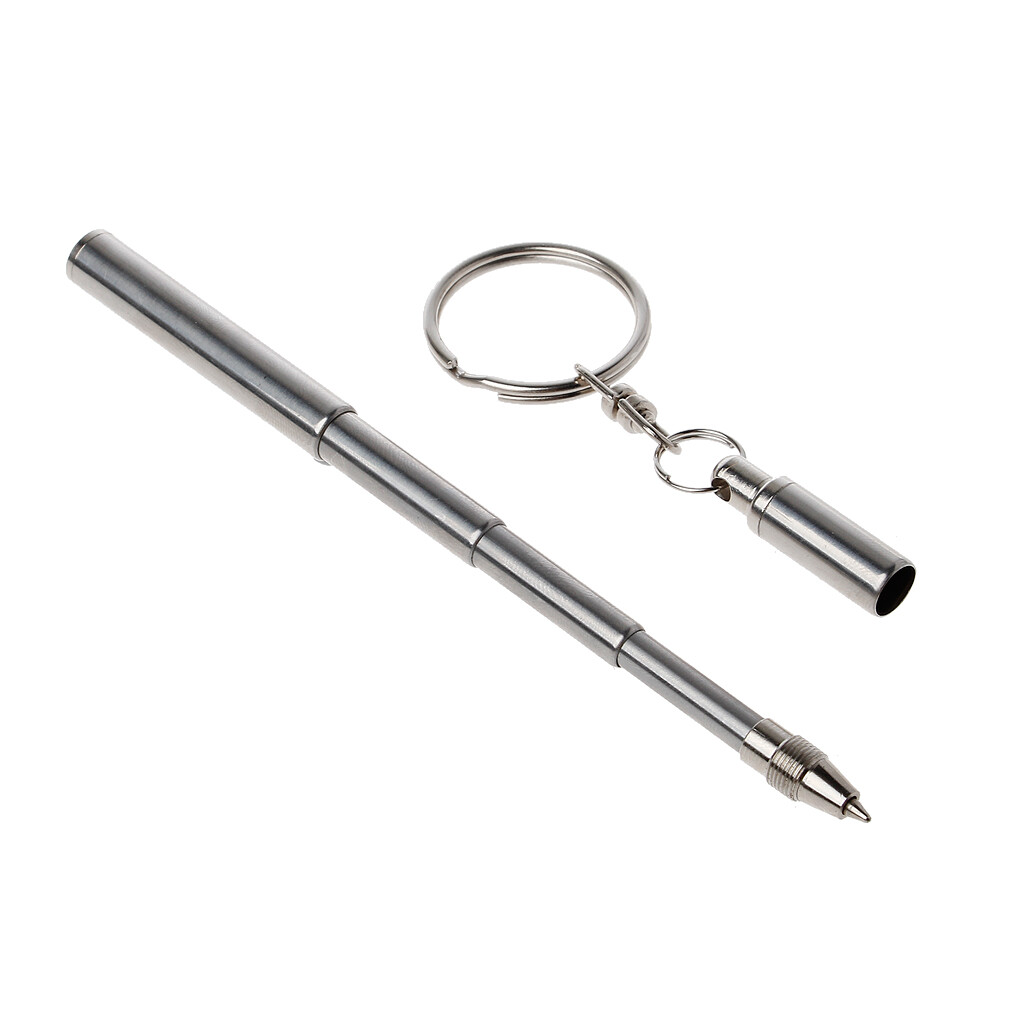 In total, the attachments cost me $14.24– an average of just over $2.00 each, which is a heck of a lot cheaper than buying antiques! Based on my experience, the trick to finding appropriate items is to use "keychain" in your search terms, which ensures that the items will be small and that there will at least be a jump ring or something to allow you to attach your chain.
Just for fun, I went through my stash of random craft supplies and pulled out some silver filigree stampings left over from my husband's silver chain of office. I used two large ones to affix to the flat sides of my flask, two small ones for the sides of my tape measure, and two more small ones to bend around the outside of my pillbox. Everything was attached with superglue (I was out of my usual E6000). I really love the effect of the filigrees– they help to "de-modernize" the look of the pieces, and they make everything more cohesive.
So there you have it– my semi-DIY chatelaine. Total cost: $65.49 (not counting the filigrees and glue, since I already had them). It was totally worth it, and I can't wait to wear it to an event!