So… you know how I said that I'd sourced all of my fabrics, and had picked out a dusty pink cotton I already had in my stash to use for part of the bodice of this dress? Well, I lied. Not so much lied as had second thoughts. And third thoughts. The pink was fine next to the striped fabric, but the velvet I wanted to use for the lapels was so deep and saturated that it just made the pink fabric look washed out and plain. The tough part was that I didn't know what else to use– I didn't want another patterned fabric that might clash with the stripes, but I hadn't been able to find any other solid cottons that matched well. I couldn't use taffeta or jacquard, because that wouldn't work with the cotton main fabric– too fancy. I could always choose white, but that seemed like giving up.
Finally, I came across a line of fabrics called "peppered cottons" by Studio E Fabrics. They're shot cottons– fabrics with the warp and weft threads in different colors so they change color at different angles– and they came in some lovely shades. I ended up picking "Fuchsia," which has plum-colored threads in one direction and hot pink in the other.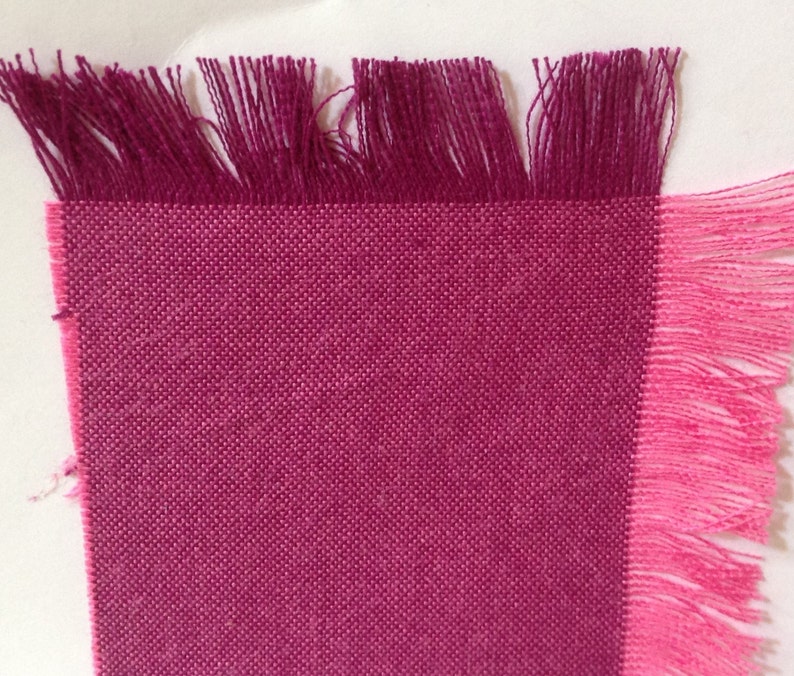 It works as a nice "bridge" between the cooler-toned squirrel stripe and the warmer-toned velvet. I also used it as the reverse side of the velvet collar and cuffs.
Anyway, once I had the fabric issue resolved, I was able to use my revised pattern to cut out the real bodice– I was able to use my new rotary cutter and cutting mat, which made the process so much faster! In order to get the stripes to be symmetrical I cut out my striped fabric one piece at a time, mirroring the somewhat see-through lining fabric to get the placement just right.
I will note that I made a tactical error in laying out my front bodice pieces– I should've taken note of the dart placement to ensure that the darker narrow stripes weren't going to get swallowed up by the darts. If I'd had the darts take up the wider, lighter areas between the stripes, the design would've had a flattering taper at the waist– as it is, the stripes disappear into both darts, leaving a large stripeless area that doesn't look quite as nice. Sadly, I didn't realize this until I'd actually assembled the bodice, which made it far too late to fix.
Continue reading