To top off my blue-striped Edwardian caftan dress, I naturally needed a hat. I'd made a few hats from the general period before– the simple straw hat with the peach bow, and the much fluffier, fancier hat with flowers and feathers— and wanted something in between the two in terms of style.
I did some Pinterest searching to find out what shape hats would be worn with the kind of streamlined afternoon dress I already had– there were a lot of different styles, but it looked like they were often reasonably wide, with some decent volume in the crown to give them some height and drama.
I particularly liked the one on the left there, with the blue flowers and slightly rolled brim, so I went looking for a good hat to use as a base. The problem with most hats is that most modern crowns are pretty low, and the brims are either wide and floppy, or too narrow to play with. I ended up purchasing this one on Ebay, figuring that I could try to mold it with hot water and flip the brim upwards to get that rolled look without sacrificing too much brim width.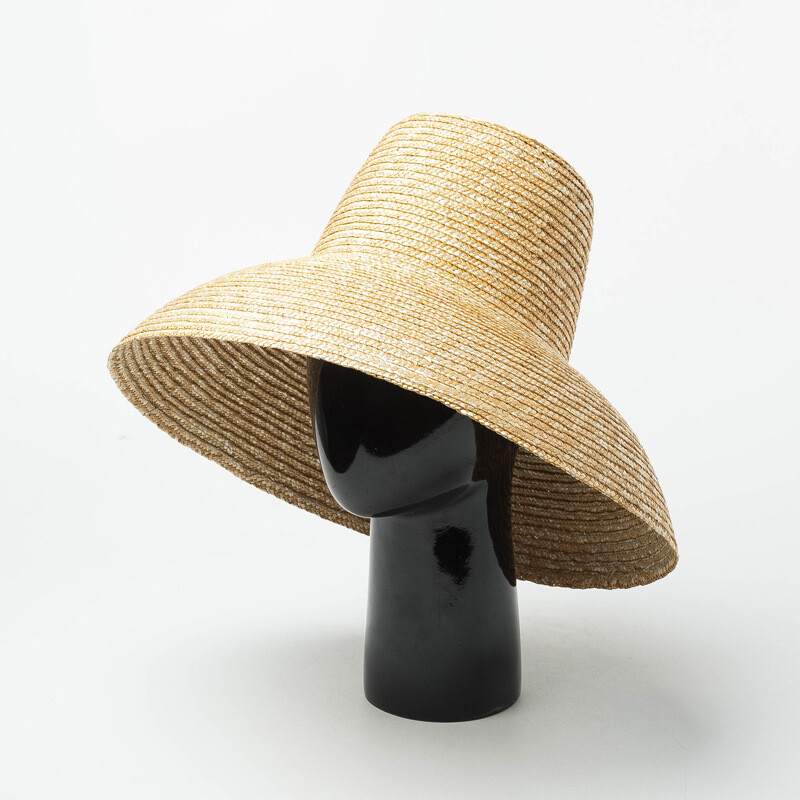 Unfortunately, when it arrived, the crown was actually too high for what I had in mind– once I turned the brim up it was almost sombrero-like.
After much consideration, I decided that I'd take a risk and cut off the crown, un-stitch the straw braid, and re-stitch it to be both lower and wider.
It was a lot harder than I thought it was going to be. I made the new crown, but it turned out to be much too wide to fit my head, which meant I had to cut it apart and jerry-rig it together again.
I ended up making a fabric insert for the hat, which had a padded circumference and a drawstring top so make it fit my head better. I'll still have to use hatpins to keep it securely on, but it's comfortable. Next time I'll make it a dark brown to match my hair, to give the illusion of a more voluminous hairstyle!
In retrospect I probably should have cut off just the top few inches of the crown and un-stitched just enough of the sides to make the flat top wider– that would've allowed me to keep the original head circumference while getting rid of the sombrero look. I guess hindsight is always perfect.
I wasn't a huge fan of the weird bulgy look of the brim, but I figured that Edwardian hats could be oddly shaped anyway, and the flowers would conceal most of it.
I bought a bunch of fake hydrangeas in different shades of blue and started piling them onto the hat to see how they'd look. I'd originally planned to put them all the way around the hat, but it just made the hat look too wide– more like the hats you'd see about a decade earlier– so I arranged them more towards the front to keep the volume up top rather than out to the sides. (I admit it, I used hot glue– I figured that the hat was kind of slapped together anyway, so I wasn't likely to need to take it apart to repurpose it)
Of course, fewer flowers meant the back of the hat (and all the messy stitching) was more visible, so I made a tucked hatband out of leftover blue fabric to go around the crown. I finished it off with a button covered in a scrap of striped fabric, to really tie in the dress details.
At least someone approves…