So one of the issues I noticed when I first tried on my black moiré skirt with a pair of heels was that it was too short.* I'd originally hemmed it to wear with flats and without tons of petticoats (for comfort), but for a glamorous evening gown I wanted to look tall and elegant, and that meant heels, plus a petticoat to fill out the skirt shape. All in all I needed almost another 3″ in length to make the skirt just brush the tops of my shoes.
*Note: This skirt pattern, Truly Victorian 297, is gorgeous but runs a little short in my opinion. I'm 5'6″ and in order to have the skirt long enough to wear with flats I only had 3/4″ left to turn over as a hem (1/4″ and then another 1/2″ for a finished edge). If I were making this again I would lengthen it, and I'd recommend the same to anyone over 5'6″, even if you're going to wear flats.
I briefly considered making a shaped hem extension out of my remaining fabric, but I really wanted to be able to make a matching daytime bodice (hence the whole "convertible" thing) so that was out. Instead, I'd have to add trim of some kind. After much searching online, I found some sheer pleated trim that I thought would work well– it had tiny dots in it, like the tulle I used for my sleeves and neckline overlay, and the pleats gave it a more tailored look than a standard ruffled trim. Knowing that my hem was just about 5 yards around, I bought a 10-yard length of the trim just in case I wanted to double it up for opacity.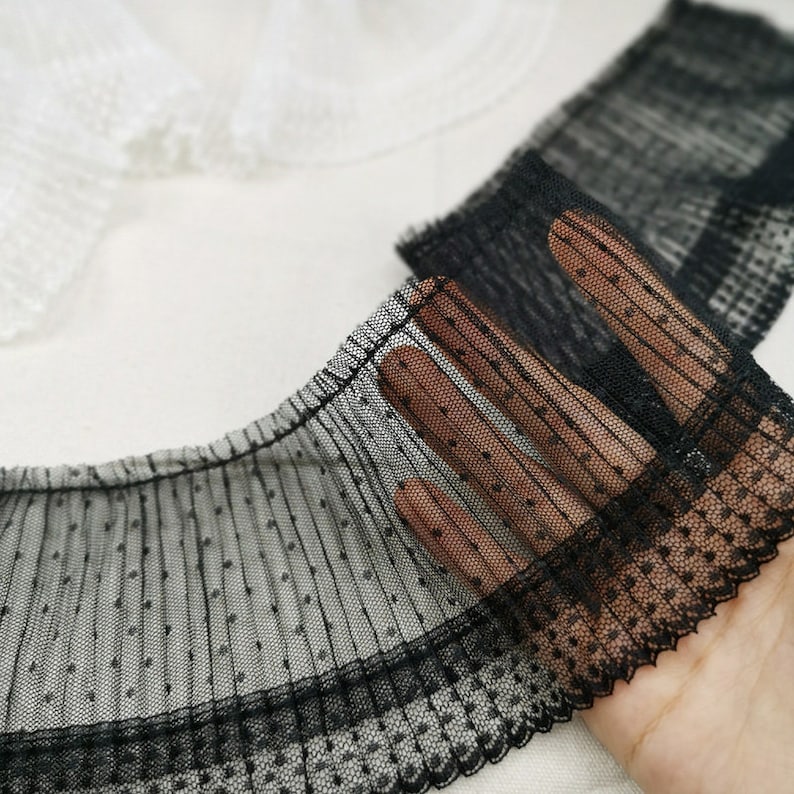 I decided, though, that while I wanted to wear the skirt with heels for eveningwear, I still wanted to be able to use the skirt with flats for more casual occasions– so the trim had to be detachable, just as the bows were. At the time I'd just finished the bow decoration with snaps, and then I thought– snap tape! I bought a bunch of it in black and attached it to the inside of the skirt hem– the lowermost edge is machine-stitched since it's so close to the actual edge and will hardly show, but the upper edge is hand-whipped down. (and it takes forever to whip down 5 yards of hem, believe me…)
Looking at the actual pleated trim, I decided that I wanted to give it some extra body by pleating it further into a ruffle of sorts– just letting it hang there (even doubled) made it too flat, and I wanted it to flare in the same way the skirt hem did. I ran it through my sewing machine, pinching up pleats every inch or so, and just eyeballed it rather than measuring it. Since I was using a single layer I was aiming for pleats that reduced the overall length by half, and came pretty close to that. Then (using a zipper foot to avoid the snaps) I machine-stitched the other side of the snap tape to the top edge of the ruffle, and tried it out on the skirt.
Unfortunately, it looked… meh. Still kind of droopy and too flimsy, and the ethereal ruffly effect didn't quite go with the more tailored look of the rest of the gown. After some experimentation, I decided to try adding a backing strip of plain black fabric to give it more opacity and structure.
I ripped long strips of black poly/cotton broadcloth and stitched them into a single length, then ran a narrow rolled hem along one edge using my rolled hem foot (so useful!). I ironed a hem into the other edge, folding it towards the *right* side of the strip so the raw (pinked) edge would be up against the wrong side of the lace ruffle, rather than facing out. Then I fork-pleated it and stitched it to the snap tape in back of the original ruffle.
That looked much better– the extra layer helped it stand out like the rest of the skirt and made it fit in better with the tailored gown. And it's so easy to put on and take off!
This completes the transformation options for the skirt. Next up (someday): Daytime bodice!