Up next were sleeves. I wanted them to be puffed, to broaden the shoulder line, balance out the skirt, and make the waist look smaller by comparison. Before I changed my neckline back to off-shoulder I originally took my inspiration from the famous Worth ironwork gown– its sleeves are made of gathered tulle with velvet bows, and I thought they'd go well with the bows on my design.
I ordered some black tulle with tiny stripes and spots on it to make my sleeves– I liked the subtle texture of the pattern, as opposed to plain black.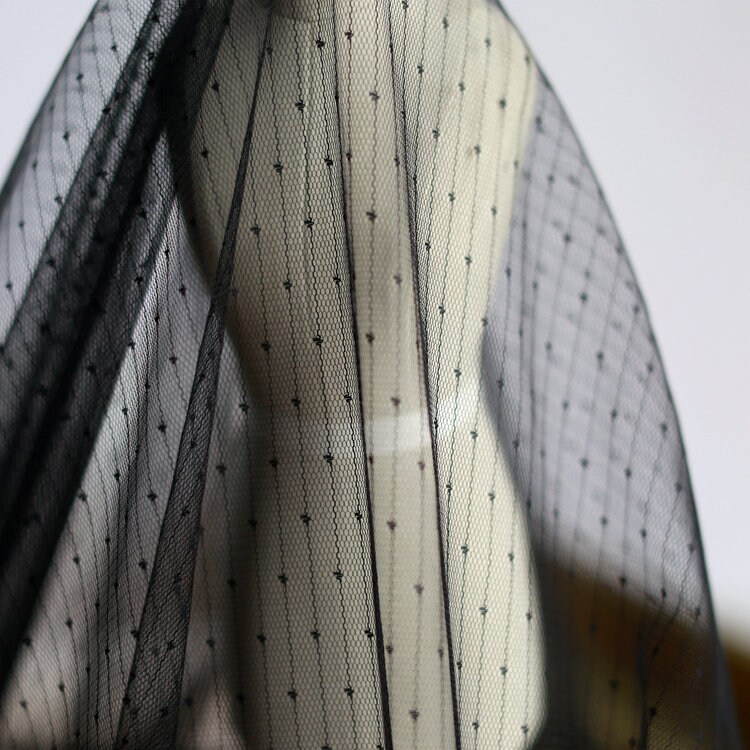 The sleeves are made in two parts– one layer for puff, a more fitted layer underneath to hold it in place. Here's the big puffed layer (folded in half) with the smaller fitted layer on top– you can see how much fabric went into these to keep the tulle puffy.
The sleeves are gathered along the shoulder edge, the cuff edge, and a line across the middle– the third line helps give the tulle a little more structure and keeps the sleeves from collapsing in on themselves.
The order of operations for assembly went as follows: 1) Run gathering line across center of puffed layer (while it's flat and easy to sew in a straight line). 2) Run gathering lines along top and bottom edges of puffed layer. 3) Pull bottom edge threads up to fit puffed layer to bottom edge of fitted layer. Stitch right-sides together, trim seam allowance, and turn to make a finished edge. 4) Pull center line threads up to fit puffed layer to fitted layer along stitching line. Topstitch in place. 5) Pull top edge threads up to fit top edge of puffed layer to fitted layer, and stitch in place. 6) Stitch armpit edges of sleeves through all layers, right-sides together, trim seam allowance, and turn.
These sleeves are very puffy– I originally made them slightly shorter than the Worth gown sleeves, intending to have them sit on-shoulder just like the ones in the picture. I actually ended up making them twice– the first set was too short and just looked juvenile (at least to my eye) so I re-cut them to be just a bit longer. Then I changed my neckline from on-shoulder to off-shoulder, which meant that the shorter sleeves were a better fit after all! Stuff like this is why I always buy extra fabric…
For now the sleeves are only basted in to the armscyes– I won't permanently set them in until I've added the bodice embellishment, which may go into the armscye as well.