To go along with my winter Regency pashmina gown, I needed some winter-appropriate outerwear to take with me on the sleigh ride. However, I wasn't up to sewing a pelisse from scratch in my limited timeframe, so I decided to wear a modern full-length black wool coat and just add a fancy fur-trimmed wrap to wear over it.
I wasn't ready to learn how to sew real fur pelts, so at first I looked into faux fur; but when I added up the cost of an appropriately luxurious faux fur (the good stuff is expensive!), an outer layer, a lining, and an inner layer for warmth, it seemed like an awful lot of effort and money to sew something from scratch.
So I decided to cheat.
I started by buying an inexpensive faux fur wrap on eBay: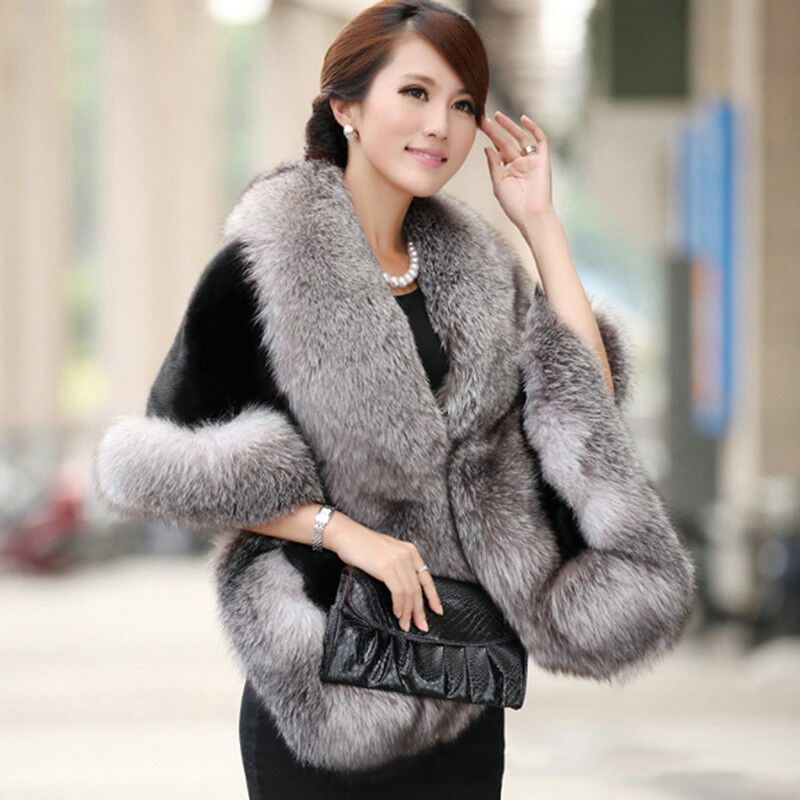 Of course, as I should've expected, when the wrap arrived it looked nothing like the photo– the fur trim was much flatter and narrower than in the picture, in addition to feeling coarse instead of soft. It basically looked like what it was– a cheap fake fur wrap from eBay.
I complained to the seller about the discrepancy and got a 50% refund, but I'm still a bit annoyed at the whole thing, particularly as I'd have been willing to pay more for the actual wrap in the photo if only it were available for sale. So to anyone looking at that particular wrap (or its differently-colored counterparts), beware!
That being said, it was still better than nothing and I hoped that it could be improved by my planned alterations. I did manage to make the fur look a little less flat by rolling the edge over to the inside and stitching it down by hand, essentially making the trim a tube of fur rather than a flat piece, and giving it some dimension. I'm keeping that trick in my back pocket for future projects if necessary.
Next I bought a length of stretch velvet in a nice deep red. Ordinarily I wouldn't use stretch velvet for something like this, but I couldn't find any velveteen in the correct color, and any other kind of velvet would be prone to crushing in potentially snowy/wet weather. Also, stretch velvet came in many more colors than other kinds of velvet, and I really wanted the perfect Christmas-y red that wasn't too bright. I will note that I bought two yards, but the velvet ended up being just wide enough at 54″ for me to lay the wrap out across the width, which meant I needed less than a yard total.
I laid the velvet out flat (pile side down, of course) and spread the wrap over it upside-down, then used safety pins to pin the wrap securely to the fabric in several places. Then I cut the velvet around the wrap and flipped the whole thing over so I could trim the edges down to just beyond the inner fur line– about 3/4″ overlap.
I turned the edges of the velvet under and hand-stitched them (using a ladder stitch) to the edge of the wrap where any visible joins would be hidden by the fur border.
Honestly, in terms of pure labor it might've been easier to make a wrap from scratch, since it would've been machine-sewing instead of laborious hand-stitching, but I think overall it was more cost-effective to do it this way rather than have to shell out money for each individual component. I'm calling this a success!