My daughter decided this year for Halloween to be Kiki, from Kiki's Delivery Service.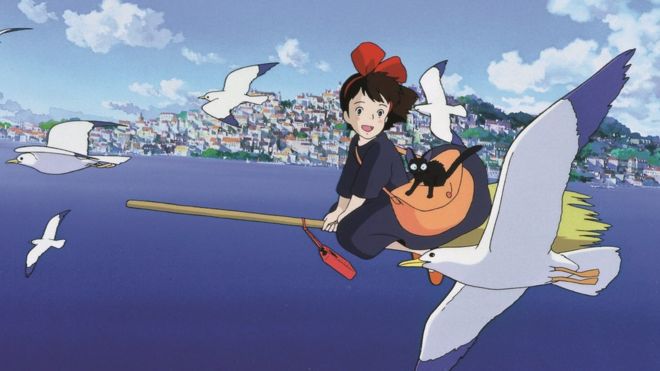 The black dress, red bow, and broom were simple to come by, as was the little stuffed cat (Gigi), but for some reason she focused in on the orange messenger bag as a crucial element of her costume, particularly as it would hold tons of candy for trick-or-treating.
Unfortunately, inexpensive orange messenger bags can be hard to come by, particularly if they need to be lightweight enough for a 6-year-old to carry around all night while full of candy. I had basically given up the search when I noticed an orange cotton sateen blazer on the rack at Goodwill that was crying out to be converted into a bag.
It had some decent structure to it, plus neat-looking pockets (which sadly turned out to be fake, but whatever), and it was only $3.99 so it was a steal. I brought it home and in only a few minutes had formulated a plan for how I'd put the bag together.
First I cut out the main panels from the front of the blazer, centering the fake pockets on either side. In order to make them symmetrical I cut out facings for the raw edges and stitched them on a curved edge, topstitching them to match the other side.
I removed the blazer's sleeves and cut a long strip about 4″ wide down the center length of each. I stitched those together to make one long strip, which I sewed to the main panels to connect them and give the bag some depth. The strip turned out to be exactly as long as I needed it, which was a nice bonus.
Then I cut some more long strips from the center back of the jacket and made a topstitched shoulder strap. I tucked it under the top edge of the bag at the side panels and stitched a 1″ hem along the top edge, all the way around, to keep it in place and make a nice reinforced edge.
Finished! It's not the most structured bag, and I kind of wish I had some velcro or something else to hold the top closed, but it's orange and it's vaguely messenger-bag-shaped, which is good enough for my daughter! And it only took me about an hour to make!