Every now and then I feel the need to rope my family into my historical costuming hobby… but it's easier said than done. Men's outfits are relatively straightforward, but getting a 6-year-old to dress up in something she doesn't want to wear can be tough– and even if you can manage it, watching her go through her day blithely unaware of the various grass stains and other horrors she's inflicting on your carefully-chosen outfit is just painful. For that reason, I've refrained from ever trying to put my daughter in any genuine antiques, or even things that I've made with complicated techniques or particularly nice fabrics. I just know she'll spoil them and I don't want to spend my day worrying about it instead of enjoying the event.
But what to do when you're just dying to attend something as a family, in full get-up? You improvise.
Since I spent some time making a light and airy Edwardian picnic dress for myself, I figured that something similar was in order for the kid. While I'd love to make her a dress laden with hand-embroidery and antique insertion lace, as I mentioned before it's just not in the cards right now– luckily, many extant dresses rely heavily on pre-embroidered fabric for decoration, which is still widely available, so I decided to go that route.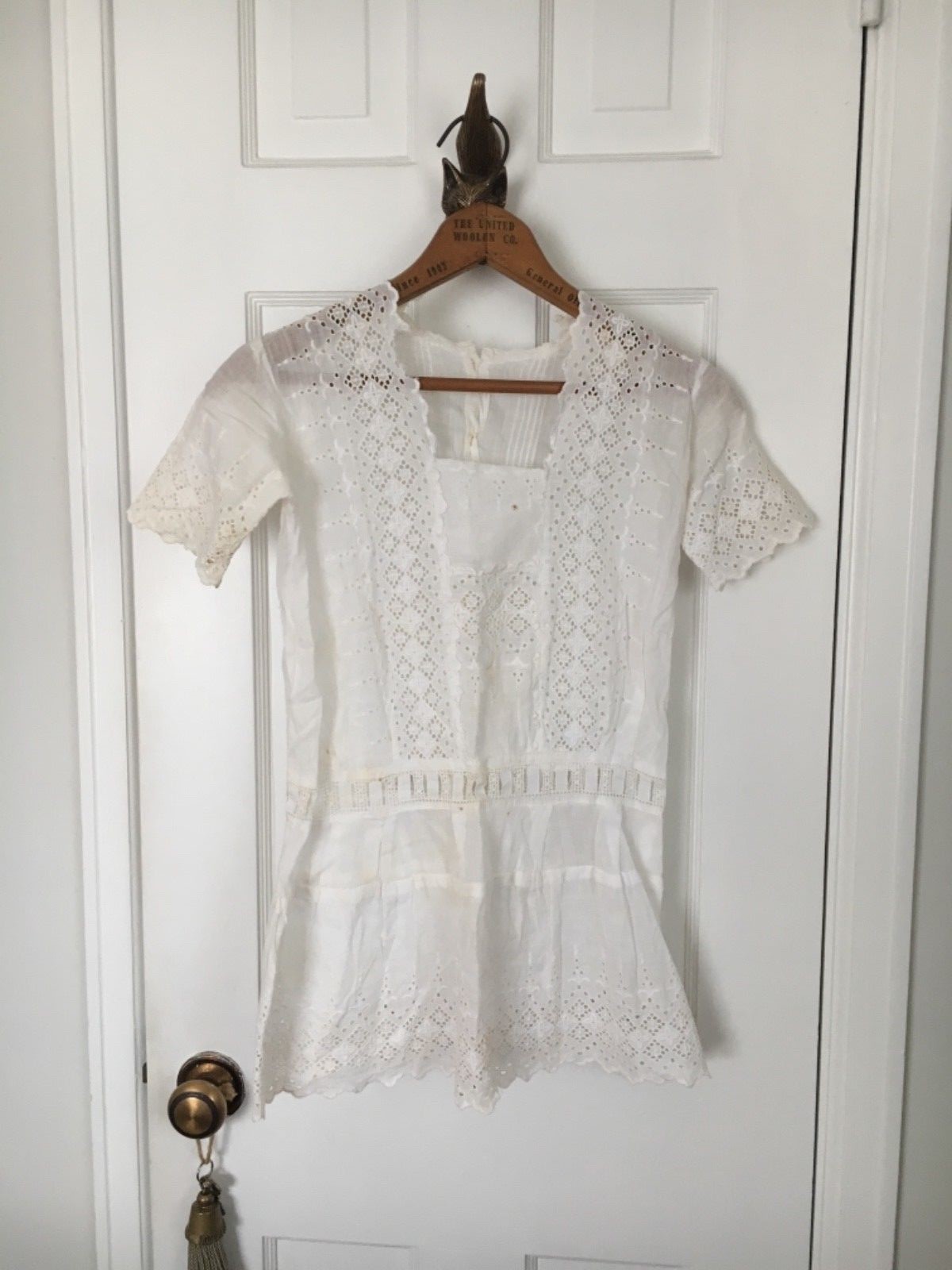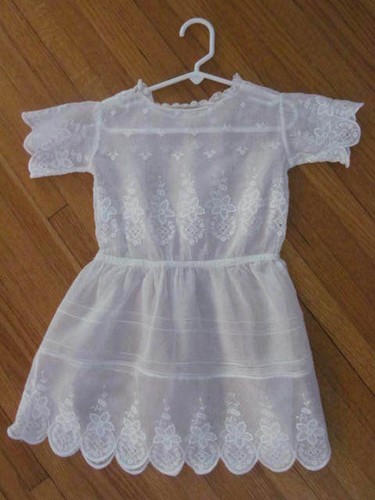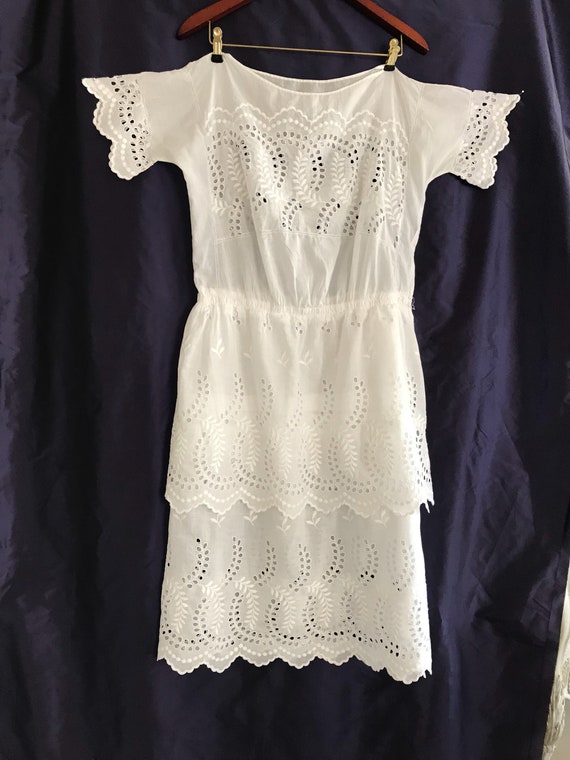 I was lucky enough to find a very nice embroidered eyelet for a fantastic price on Etsy– so fantastic that I bought the seller's whole stock of 10 yards and counted it a bargain. (I'll probably be making petticoats out of the remainder!)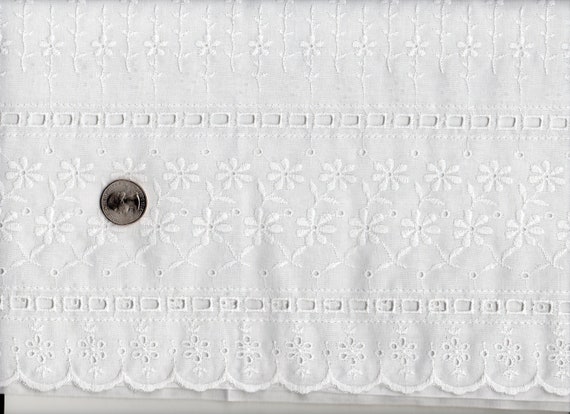 It still looks more modern than real antique yardage, but again, we're going for "good enough to wear, cheap enough to ruin" here, and at least it's prettier than some of the other eyelet fabrics out there. It's even got room to run a 1/4″ ribbon through it.
I took an existing dress of my daughter's that fit her reasonably well and used it as my base pattern for sizing. So much easier than trying to get an active 6-year-old to stand still. I ended up using just about 3 1/2 yards of eyelet fabric– it would've been less if the eyelet had been double-bordered, but since I only had a single border I needed the length to get the embroidery. I based my design on the first antique dress above (upper left corner).
The front of the bodice is the most complicated– I'd originally planned on just constructing it out of the eyelet borders with a plain center panel, but the center looked so plain that (despite my intent to avoid detailed sewing work) I decided to add a few tucks and insert a strip of eyelet flowers cut from my fabric (tutorial here). I added the side pieces of eyelet and cut the bodice extra-wide so I'd be able to fit it to my daughter later.
The back of the bodice was also originally going to be plain, but since I didn't want to put more eyelet on the back (seemed like a waste) it looked too plain in comparison to the front, so again I ended up adding some tucks on either side of the center. I used the selvedges for the center back edges so I would only have to fold the fabric over once for my button placket. The buttons themselves were actually non-functional– I stitched them over snaps because I didn't want to put strain on the delicate fabric with buttonholes.
To ensure a proper fit, I didn't finalize the cut of the armscyes or side seams until I'd finished the front and back completely. Then I just put it on over her head and marked where the sleeves and sides should go. Because the dress was so sheer I trimmed the interior seam allowances to 1/4″ and zig-zag finished them all.
I'd intended to cut the sleeves entirely out of eyelet, but they looked too heavy when paired with the bodice (besides being kind of stiff from the embroidery), so I made the sleeve out of plain fabric with a few tucks instead, and trimmed it with just the very bottom edge of the eyelet section. I like the decoration on the sleeves a lot, but I'm pretty sure I made an error with the pattern drafting– they look fine on the hanger, but when worn they're a bit constricting in terms of movement. I'll reference an actual pattern next time instead of winging it.
Once the bodice was done, I cut a strip of eyelet flowers and added machine-sewn beading slits, essentially 1.5″ long buttonholes. I suppose they'd have been a bit neater if I'd cut them first and then satin-stitched the edges, but they tend to pull out of shape that way and I wanted them to be as vertical as possible. The slits aren't that precisely positioned– I've never gotten the hang of perfect buttonhole placement on the machine– but they're close enough. I stitched the strip to the bottom of the bodice to use as a waistband, gathering the bodice slightly to let it blouse a bit over the waistband.
For the skirt I gathered a 60″ length of eyelet down to fit the waistband, then stitched it all together.
I ran lavender ribbons– 1.5″ and 1/4″– through the beading slits in the dress, tying a bow at the waist and hand-tacking the narrow ribbons on the inside so I'll be able to replace them easily if she wants a change in color. I love the touch of color the ribbons add to the dress– not just because it makes my daughter more likely to wear it (purple is her favorite color) but because it makes it feel more like something a kid of the time might actually have worn.
I was going to make a matching slip to account for the sheerness of the fabric, but I just plain ran out of time. I had her wear a white tank top and some shorts under the dress instead.
The finished dress was pretty adorable– and true to form, my daughter played hard in it, climbing trees, sitting in the dirt, and trying to fish for snails in a lagoon. Upon seeing the stains I was definitely glad I'd made something relatively quick and easy for her to wear!